Titan Media / Titan Rough: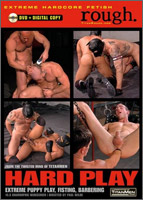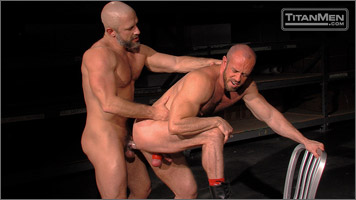 HARD PLAY
SCENE 1: Dirk Caber fucks Matt Stevens
Sitting in a chair with his cock at attention, Dirk Caber feasts on hairy muscle man Matt Stevens—a shaved-headed hunk brandishing clippers. Dirk buries his salt-and-pepper beard to the base of Matt's thick cock. "Ready for your haircut?" asks Matt, who starts to buzz the sucker's head. Dirk continues to feast, his hair falling to the floor by his leather boots. Dirk looks up and smiles, Matt's hard cock grazing his bicep. Matt puts cream on Dirk's head and uses a razor to shave the stubble. Dirk jacks, then sucks Matt some more before he gets his own thick dick swallowed. Dirk bends down for a kiss, grabbing Matt's ass—which he then eats. Dirk slides his cock in ("Fuck that hole!" yells Matt), reaching his arms around to rub the bottom's pecs. Matt sits down on the verbal Dirk ("Slide all the way up and down!"), the top reaching around again to feel the hunk's bod. Matt releases his load, then gets behind Dirk to rub his nips and kiss him as the top squirts.
THIS PREVIEW CONTAINS ADULT SEXUAL CONTENT
Online Film Presentations: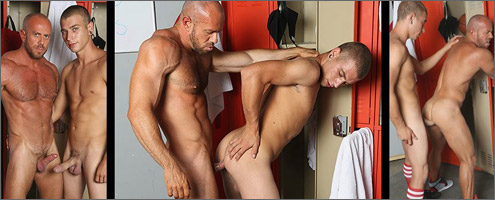 Jake Cruise / Hot Dads Hot Lads:
MATT STEVENS & ALEXANDER GREENE FLIP-FUCK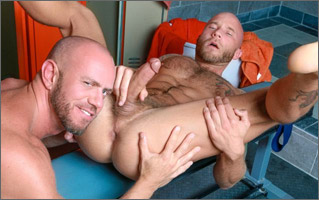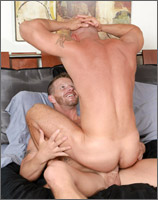 High Performance Men:
DIRTY SEXY JOCKS
BEDROOM ROMP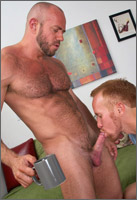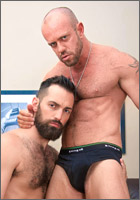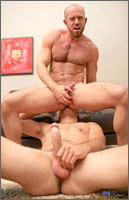 Pride Studios / Men Over 30:
LET'S STAY IN INSTEAD
MAN, YOU LOOK GOOD
AN INTIMATE THANK YOU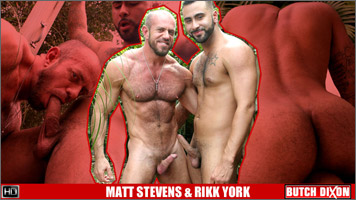 Butch Dixon:
MATT STEVENS & RIKK YORK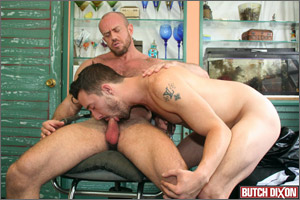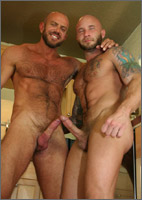 MATT STEVENS & ISAAC HARDY FLIP-FUCK
DRAKE JADEN & MATT STEVENS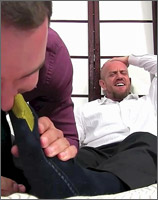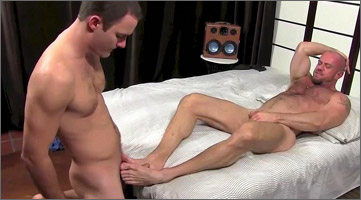 My Friends Feet:
CAMERON FUCKS MATT STEVENS' SEXY PORN STAR FEET