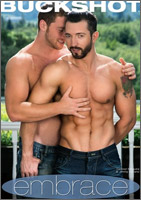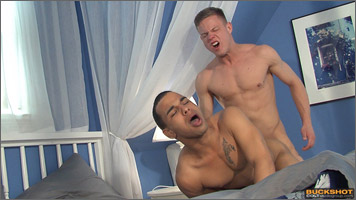 SCENE 1: Joseph Rough tops Trelino
Waking up next to the guy of his dreams, locked in an embrace that lasted all night long, Joseph Rough (a name that suits his toughguylooks) wakes with a smile on his face and his sexy darkskinned boyfriend Trelino in his arms. Picking up where they left off the night before these guyswant more of each other. With hard morning wood Joseph kisses Trelino deep andpassionately, making his way slowly down that tight body for mouthful of his uncut cock. Trelinorolls over and slurps and sucks his boyfriend's hard meaty dick, showing off his hot ass as heenjoys sucking Joseph's cock.
Joseph can't resist that firm round ass and climbs on top of Trelino to lube up that hole, getting itgood and wet. Trelino knows just what to do next as he climbs up on Joseph's thick pole for awild morning ride. Getting his hole drilled deep in every position imaginable makes Trelino'smorning load cum gushing to the surface. On his back with Josephs cock pounding his hole,Trelino spews a river of hot cum. Seeing his boyfriend go over the edge is all it takes andJoseph soon has his own gushing geyser of cum. Drenched and feeling satisfied they melt intoanother loving embrace.