years active:
2012 - 2013
aka:
Kip (Corbin Fisher)
stats / info:
Age: 24
Height: 6' 1"
Build: Athletic
Waist: 32
Weight: 190 lbs
Cock: 7" uncut
Eyes: Blue
Hair: Brown
Shoe: 10.5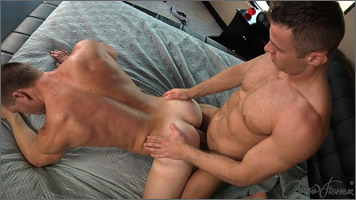 CORBIN FISHER comments:
Kip is a big muscle guy who likes other big muscle guys. I think he's found a perfect place to hang out – we have lots of those running around here!
Kip likes to stay active. When he's not in the gym working out, he likes to be outdoors or out at the clubs dancing with friends. While Kip prefers guys, he has fooled around with girls before. Aside from muscles, he also goes for guys with great eyes and smiles. When he has sex, he likes it to be sweaty, hot and dirty. Yum! He loves doggy-style and doing it up against the wall. Kip likes both top and bottom, depending on the chemistry between him and his partner. The first time he jacked off he was 11 or 12. He usually jerks off once a day, and tries to get laid at least once a week. When Kip jacks off, he's often fantasized about being in a porn video. Yep – he's definitely come to the right place! He also fantasizes about being in an orgy.
   Kip applied on the Corbin Fisher website and was nervous at first, but now he's excited to get on the other side of the screen!
Kip pulls off his shirt and shows off his incredibly-built body. He loves to work out his chest and abs. He's done a great job! He flexes his guns, then shows off great butt and his uncut cock. Kip considers his chest to be his best feature – I think I have to agree! Now that Kip's done showing off his body, he's ready to show off his jack-off technique. He strokes his cock and plays with his nipple. Kip rubs his chest some more and his big cock is rock-hard. Kip leans back on the sofa and fingers his ass as he jerks his cock. He flips around and spanks his own ass. He strokes his dick downward, jerking hard. Kip sits back down and jacks off faster. He plays with his nipple again. Kip shoots a thick load that splatters his cock and abs. He tells Pete was thinking about an orgy scene and that he's never been with one. We'll have to make that a reality for Kip!